Enhance Your Home with Wood-Look Tile in Painesville, OH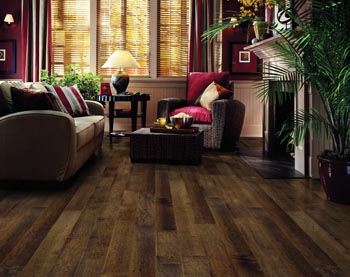 Steer your interior design plans in bold and exciting directions with Guhde Flooring America. At our flooring showroom, you gain the resources and support you need to transform your home. We are a leading supplier of wood-look tile in Painesville, OH. Visit our location, gain inspiration, and turn your remodeling ideas into a reality: we are with you at every step.
The Advantages of Wood-Look Flooring
As its name suggests, wood-look tile is flooring that is crafted from materials like ceramic and porcelain. Thanks to advanced manufacturing methods, these products successfully emulate the look and feel of solid hardwood. With this flooring, your interior design options are virtually limitless. There are many benefits to adding this flooring to your home.
First, porcelain and ceramic wood tile are highly versatile. These materials are made from naturally occurring materials and then finished with specialized glazes. The resulting products are dense, solid, and highly resistant to water. It is a strong material that stands up against everyday foot traffic and daily activity. It is a solid addition to common areas, hallways, and kitchens.
Since wood plank porcelain and ceramic tile won't change shape when exposed to moisture, they provide a wealth of remodeling opportunities to homeowners who prefer a natural and seamless look throughout their interior. If you have ever wanted the beauty of Nature in places like the bathroom or basement, you can realize your interior design wishes with this tough flooring material. This flooring is available in different designs and styles, which includes popular wood species like oak and pine.
On top of that, wood plank ceramic tile is easy to maintain. The resilient surface of this flooring repels dust, dirt, and spills. As a result, you will spend less time and energy cleaning up messes—and instead, do more of what you enjoy doing.
The dense composition of wood-look flooring also gives it great temperature control properties. During the summer, tile and porcelain remain cool to the touch. At the same time, it is also effective at retaining heat. If you are considering underfloor heating for your home, ceramic and porcelain wood tile are solid choices.
Professional Support and Flooring Installation Available
The interior design possibilities with wood-look tile are limited only by your imagination. At our showroom, you have the opportunity to view samples of flooring from the leading brands. If you aren't sure which direction your project should go, let us help. We have experienced and knowledgeable consultants on-site to help work out the details with you.
The lasting strength and beauty of new flooring depend on a successful installation. When it's time to put your plans into motion, let us handle all of the hard work for you. We offer professional installation services by a seasoned team. Our technicians handle flooring projects of any size, ensuring your new flooring looks great and will stand the test of time.

Contact us to learn more about our selection of wood-look tile. We are based in Painesville, OH, and serve customers throughout Lake County, including Mentor, Concord, Willoughby, and the surrounding area.