Vinyl Flooring in Painesville, OH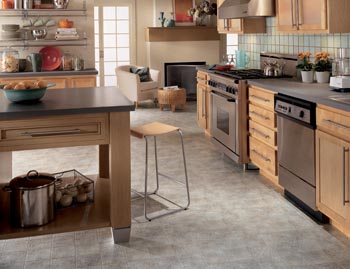 Are you shopping for stylish, durable, and affordable floors? Check out our expansive collection of flooring, which includes vinyl tile flooring and vinyl plank flooring.
Our collections of vinyl flooring offer an attractive and cost-effective option. Modern vinyl floors are a great choice for both commercial and residential customers who are looking for the visual appeal of high-end flooring without a costly price tag or extensive maintenance.

Our flooring showroom is stocked with a wide variety of vinyl floor options that are designed to complement every design sensibility. Whether you're interested in an elegant design, a more rustic style, or anything in between, our showroom has the products you need to make your home or business look its best from the ground up.
Versatile & Durable Option For Any Decor
When it comes to vinyl sheet flooring is one of the most affordable options on the market. Since it is produced in large rolls, pricing is considerably lower than a majority of other flooring options. With no precision cuts or additional waste materials being generated, vinyl sheets are essentially made to fit your exact flooring measurements. In addition, it is easy to install and resistant to moisture, which makes it a good fit for kitchens and bathrooms.

If you're interested in floors that feature the look of natural stone for a fraction of the price, vinyl tile flooring is a perfect solution for your home or business. While vinyl tile has the same sophisticated appearance of natural stone, it offers a stronger surface which resists heavy pressure that would crack or break standard stone tile. For the stylish design of natural stone with durability that gives you the most for your money, make vinyl tile floors your choice for your commercial or residential flooring project.

Like vinyl tile is to its more costly natural stone counterpart, vinyl plank flooring represents a more cost-efficient alternative to natural wood floors. While giving your floor the appearance of actual wood, vinyl planks resist water and other types of stains that would damage natural wooden flooring. This advantage makes vinyl plank flooring a practical and affordable solution for any home or business, especially for areas that receive a great deal of foot traffic on a daily basis.
In addition to durability and affordability, there are numerous benefits to upgrading a home or business with vinyl floors. They offer an exceptional combination of style and practicality, and include the following features:
Resistance to water, humidity & moisture
No expansion or contraction
Durable for children & pets
Comfortable and forgiving underfoot
Great for high-traffic Areas
High-end looks that mimic tile, stone & hardwood
Easy installation
Low maintenance requirements
Easy to transition between styles for each room
Fade proof
Available in vivid patterns or neutral colors
One of the most unique traits of vinyl sheet flooring is the way that it is manufactured to include several layers, each of which is essential to the overall functioning and performance of the flooring. The tile, stone or wood pattern is printed onto the second layer, which comes with grain patterns, stains and intricate details to give the most authentic appearance possible. Besides the economical option of vinyl flooring, we also offer luxury vinyl tile flooring.

The precise detail of the printing makes it difficult to tell the difference between vinyl flooring and the real thing, even to the trained eye. Whether you're looking to improve on your current flooring design or intend to find a style for a new home or business, our showroom has quality brands that are designed to fit any aesthetic. For affordable flooring that is designed to withstand the test of time, make us your choice for vinyl flooring and experience the difference of quality for years to come.
Quality Vinyl Flooring Installation from the Experts
Our comprehensive floor solutions include vinyl flooring installation from our experienced staff of skilled professionals. You can count on our trained team of expert installers for any flooring project, regardless of how big or small it may be. We believe that finding the right team of installers is just as important as the quality of the floor itself, so we ensure the longevity of your floors with a warranty that protects you against any damage.
All of our installations are backed by the Ultimate Confidence Guarantee, which covers any installation-related problems for the lifetime of your new floors. As well, if you are not completely satisfied with your 4 or 5 star-rated floors within 30 days of purchase, we will replace them with a similar product at no additional cost.

Contact us when you're looking for vinyl flooring for your home or business. We serve clients in Painesville, Ohio, and nearby areas and offer 12 months financing plans.