Tile Flooring in Painesville, OH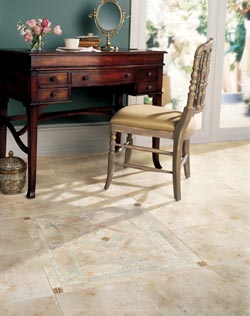 With so many flooring choices on the market, it can be tough to settle upon just one. But while carpet looks great and feels wonderful underfoot and hardwood vinyl floors offer timeless elegance and warmth, tile has its own unique benefits. It has a dramatic appearance, is durable, and is easy to clean. At Guhde Flooring America, we are the place to turn when you decide to update your home or business with tile flooring in Painesville, OH. Our friendly and helpful staff will provide the support and advice you need during your renovation.
A Dramatic Way to Enhance Any Room
Floor tiles come in a range of types, sizes, and styles--but one thing they all share is their ability to breathe new life into any room. They have a tremendous appearance that speaks of quality and solidity. In short, it looks good and elevates the style of a room to that of a modern showcase of fashion and style.
Meeting All Your Flooring Needs
There are many reasons to use tile in your home or office. If you want a water-resistant and durable option for the bathroom or high-traffic entryway, you can get both with ceramic tile. It stands up to wear and tear and looks great while doing it. There aren't many products that can make that claim, but tile holds a special place in the ranks of home remodeling and renovation products.
The Natural Look
Maybe you want the benefits of tile but are seeking a more natural-looking product--one that brings a rustic appeal to your property. Slate floor tiles have the appearance of stone, which creates a unique design for your home. They have the texture of slate with a look that speaks of years of reliable use in many settings and situations.
The Finishing Touches
Once you've chosen the tile you want, your next step is to have it installed. Some tiles require the skillful attention of experienced professionals for proper floor tile installation. Our team has the know-how to precisely measure and cut your tiles so there's no wasted material and the fit is accurate and exact. The tiles are laid correctly and live up to their expectations for durability because they don't suffer from shifting or cracking.
Trust our team to work with you so that you receive the support and guidance you need to choose the tile that works best. It's our goal to help you make your home or office live up to its potential.
Contact us to learn more about the vast range of tiles we carry. We proudly serve customers in Painesville, OH, and the surrounding area.