Luxury Vinyl Flooring in Painesville, OH, That Improves Your Interior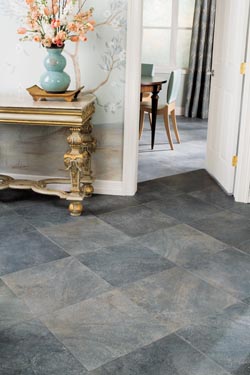 It's time to elevate the aesthetic appeal, strength, and value of your home. At Guhde Flooring America, we make it easier to meet your interior design goals. We are your source for luxury vinyl flooring in Painesville, OH. A vast selection of flooring, personalized service, and professional installation solutions await you when you visit our location. Come in with ideas and leave with results--with us, completing your remodeling project is simple and hassle-free.
Remodeling projects are investments. Ensure the value and functionality of your new flooring and shop with us. We've teamed up with the well-known manufacturers to offer a vast, wide-ranging catalog of luxury vinyl tile and plank flooring. Available in different colors, designs, and patterns, your interior design possibilities are limited only by your imagination.


Luxury Vinyl: The Smart and Sensible Solution
Never make a choice between form and function again. Luxury vinyl offers the best of both worlds. Also known as LVT or LVP, this material has earned a reputation amongst homeowners as beautiful and resilient flooring. There are many advantages to luxury vinyl, including:
Durability: Luxury vinyl plank and tile are comprised of strong, composite materials. These products are designed to last, providing a solid surface that resists bumps, scrapes, impacts, and scratches. It's a smart choice for high-traffic areas, like kitchens, bathrooms, hallways, and common areas.
Ease of Maintenance: Thanks to luxury vinyl's solid surface, it repels water, dirt, and dust: it will not stain easily. In turn, keeping this flooring neat and clean requires less time and energy. Due to its stain-fighting capabilities, luxury vinyl has become a favorite amongst active households with children and pets.
Aesthetic Flexibility: Luxury vinyl plank flooring and its tile counterpart are available in a stunning variety of designs. On top of that, they successfully emulate the appearance and texture of premium materials like stone and solid hardwood. Now, you can enjoy the beauty of natural materials in virtually any room.


We're Here to Support Your Re-Flooring Project
Luxury vinyl successfully unifies artistry, strength, and practicality: which is why we have an impressive selection at our showroom for you to browse. Not sure where to begin? Don't worry--we're always here to provide help through personalized consultations. Our helpful and friendly associates are well-versed in flooring. We'll get to know about your property and your project goals, and then make smart recommendations.
Are you ready to transform your interior? Let us handle the details, so you attain lasting, picture-perfect results. Our showroom offers professional luxury vinyl tile and plank installation. We'll send a skilled and experienced team to your location to place your flooring. Whether you are re-flooring a single room or your entire property, something is waiting for you at our location.



Contact us to learn more about our luxury vinyl flooring. We serve clients in Painesville, OH, including the Lake County area, including Mentor, Concord, and Willoughby.