Laminate Flooring in Painesville, OH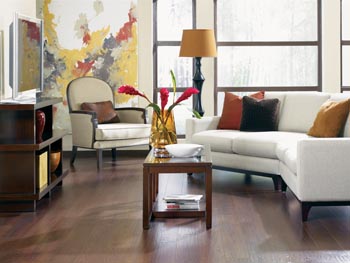 Achieve striking, low-maintenance floors, with lovely, long-lasting laminate flooring in Painesville, OH. For the ultimate flexibility in style, choose laminate floors for any room. Laminate comes in a wide variety of styles and colors, created to revamp your space or to match any existing décor.
Versatile, durable, and easy-to-maintain, modern laminate helps you achieve the perfect look and feel for your home at an affordable price.
Affordable
Match your imagination to your homes reality at a cost-effective price-point that few other materials can beat. At a reasonable price per square foot, printed laminate floors simulate almost any kind of natural and engineered flooring material in any pattern. We proudly offer 12-month financing as well professional installation services to meet your needs.
Versatile
Discover the many options in laminate tile, including a pleasing array of natural colors and visually appealing patterns. Laminate is manufactured with an image layer that mimics porcelain or ceramic tile, or even hardwood flooring.
Bring elegance to your home with one of the best sellers with laminate that resembles ceramic tile; or add warmth to a space with laminate that features the richness of real wood. With an outer layer that mimics the wood variety of your preference, you can have it all. You can see the grain in many lustrous shades of wood that range from creamy pale to warm reds, soft grays, and earthy browns.
Durable & Low-Maintenance
Create a smooth, continuous expanse of beautiful flooring in areas that pose a challenge, such as hallways, as well as in adjacent rooms. Inherently low-maintenance, laminate is perfect for busy households. Regular mopping and sweeping will keep these floors looking like new for years, even in high-traffic areas. Laminate is created with a durable seal to resist water damage, making this flooring ideal for kitchens and bathrooms.
Find Quality, Brand-Name Laminate
Visit our fully stocked warehouse showroom to take a look at the best laminate flooring options. We carry only the highest quality laminate floors, and offer a full selection of laminates from the following trusted manufacturers:
Mannington™ – Known for gorgeous hardwood floors, this manufacturer has turned its expertise to laminate. Along with hardwood, Mannington offers laminate in the styles and colors of hardwood that are most appealing.
FloorCraft™ – This well-known manufacturer produces naturally appearing laminate with all the glory of hardwood. The secret is the image layer, which contains the whirls, grain, and patterns of real wood, along with a rich range of lustrous colors.
Mohawk™ – Nature serves as the inspiration for Mohawk's luxurious line of laminate flooring. Delight in laminate that replicates oak, hickory, maple, cherry, teak, pine, rosewood, and walnut. No one will know that your flooring is not real wood.
Shaw™ – Innovation is what makes Shaw a leader in laminate and other types of flooring. With advances in manufacturing, flooring made by Shaw looks just like real wood or ceramic tile. You have your choice of shades, finishes, and patterns.
Guaranteed Laminate Flooring Installation
Choose laminate flooring you love that is guaranteed to last with professional laminate flooring installation. Rely on certified technicians who know the proper procedures for installing your new flooring. It is essential to follow the manufacturer's recommendations and our professionals know exactly what is required of the different brands of laminate we carry.
When laminate is installed correctly, the full beauty of this flooring option is readily evident to anyone who enters your house. Let us tear out your old floors and dispose of them, clean the subflooring, and carefully install the new laminate piece by piece. The result is flooring that lies flat with no edges sticking up that would make it vulnerable to damage. Our technicians also ensure that your laminate adheres securely to the subfloor so it does not move under stress or pressure.
All of our laminate floors come with our Lifetime Installation Guarantee. If you have any problems with your laminate, let us know and we will fix the problem at no cost to you.

Call now or come in today to talk to a flooring expert about laminate flooring, or our 12 month financing program. We proudly serve the communities of Painesville, Lake County, Mentor, Concord, and Willoughby, OH, plus all of the surrounding ares.