Kitchen Cabinets in Painesville, OH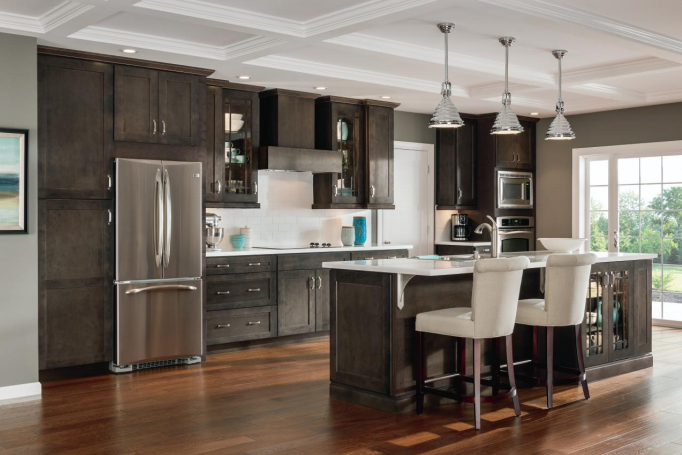 Cabinets play a very important role in your home, especially when it comes to bathroom and kitchen cabinets in Painesville, OH. Not only do they serve a functional role by giving you storage space, but they are also a major design element that can drastically change the look and feel of your space. That means it is important to have the right cupboards, vanities, cabinet doors, and styles installed into your space.
Our discount cabinet showroom is ready to help you find the perfect match for your space. We carry a wide variety of different designs and styles, including that latest kitchen and bathroom cabinets from Fieldstone and Mid Continent. Your search for the finest cabinetry, including custom cabinet options, ends right here with us.


Completely Customizable Cabinets from Fieldstone
Fieldstone is one of the leaders in the custom cabinet field and for very good reason. When you buy Fieldstone cabinets and vanities from our store, you know you are getting one of the most flexible and modifiable options currently available. These high-end creations have tons of features and options that enable you to perfectly complement your existing décor while adding the boost to functionality and aesthetics that you want to see in your brand-new cabinets.


Affordable & Attractive Mid Continent Cabinetry
Mid Continent is a company that creates semi-customizable cabinets at very affordable prices. This enables you to easily stay on budget while buying and installing cabinetry that fits the mood and feel of your home while still giving you more storage and space options. Creating a modern-looking home with updated designs is easy when you shop for cabinets at our showroom.


Finding the Right Type of Custom Cabinets
Matching the right type of cabinetry with your home can be a challenge when the store you choose to shop with doesn't have a vibrant selection for you to browse. At our showroom, you will never be at a loss when it comes to finding something that fits the look you want and the functionality you need.
Our showroom features a large number of sample boards displaying various door styles, paints, door handles, and hardware options. This enables you to quickly pick and choose the right options for your home. Furthermore, our design and consultation team can help you narrow down your search so that the new cabinets you buy are 100% the cabinets you want for your space. Speak to us today to receive a free estimate on all of the different types of cabinetry we offer, including:
Slab Cabinets
Inset Cabinets
Shaker Cabinets
Thermofoil Cabinets
Corner Base Cabinets with Pull Drawers
Distressed Cabinets
Full Overlays
Island Cabinets



Contact us when you are looking for superior cabinets for your bathroom, kitchen, or office. Our team is proud to provide the finest in products and services to customers located throughout Painesville and Perry, Ohio.